Wednesday, July 11 2012
I recently acquired this lovely piece of  furniture from a local thrift shop.  I love this mid-century modern look.
Buying thrift and non-profit, I was justifying my purchase in my head at the time.  Since their area of expertise is rescuing injured or endangered wild life, after the Colorado wildfires, there has been a lot of rescuing needed around here.  Justifying too simply because it would have been much easier to buy a new dresser, however much more expensive and I could not find anything I liked enough to spend the money on.  I knew this piece needed some work, but in this case, my donation helped out a worthy cause and Aris may finally get a dresser!  Remember this plastic disaster?
With his pajamas in a bundle on the top (and his undies too because his pajamas don't fit in the drawers) we need some kind of replacement.
And, although Rory's first comment when he saw this 'new' dresser sitting in the garage was, "Where did you get that?  Grandma's attic?" I was not disheartened.
Instead I quickly dug around the internet for some inspiration.
House & Home
Original Source Unknown
Ombre perhaps?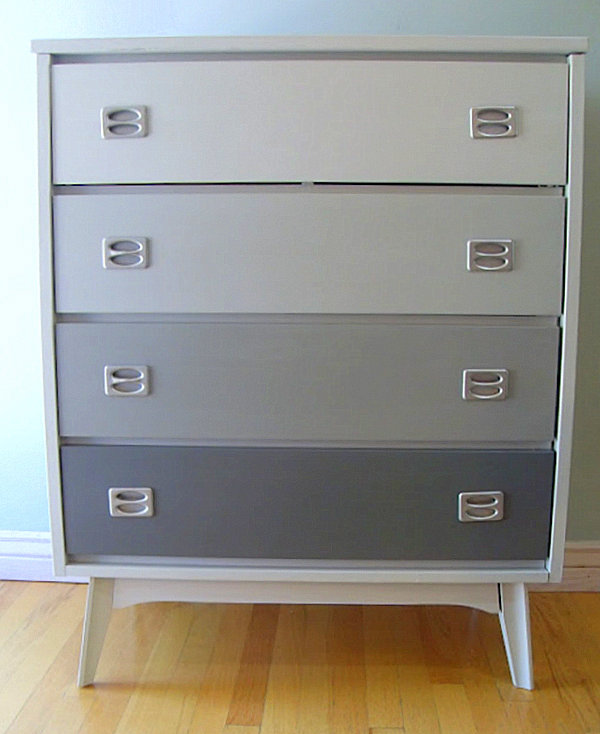 So many possibilities!  We are leaning towards a light gray outer finish with some pops of orange or turquoise somewhere, yet to be determined.  I think it will turn out great, but at our snails pace, let's hope that happens before summer's end!
~Laura
Images: 1) Laura for monkeysonmyback, all others linked as known
ps.  What do you think of the new page design?  Honestly.  I have been wanting to change things up for a while now, but wasn't quite sure how to accomplish what I have sketched in front of me.  It does look better.  Much easier to see the post with a lighter background for one.  It could still use some work.  So, don't be surprised if there are more changes!